Freestyle Flex™ dwufazowy laktator na dwie piersi
Freestyle Flex™ dwufazowy laktator na dwie piersi
Freestyle Flex ™ to elektryczny laktator zaprojektowany tak, aby pasował do Twojego stylu życia: jego lekka, kompaktowa konstrukcja i akumulator ładowany przez USB zapewniają elastyczność odciągania pokarmu w dowolnym miejscu i czasie, bez kompromisów w zakresie wydajności odciągania pokarmu.
Najbardziej nowoczesna metoda odciągania pokarmu, z zastosowaniem najnowszej technologii, w pełni dopasowana to Twoich potrzeb.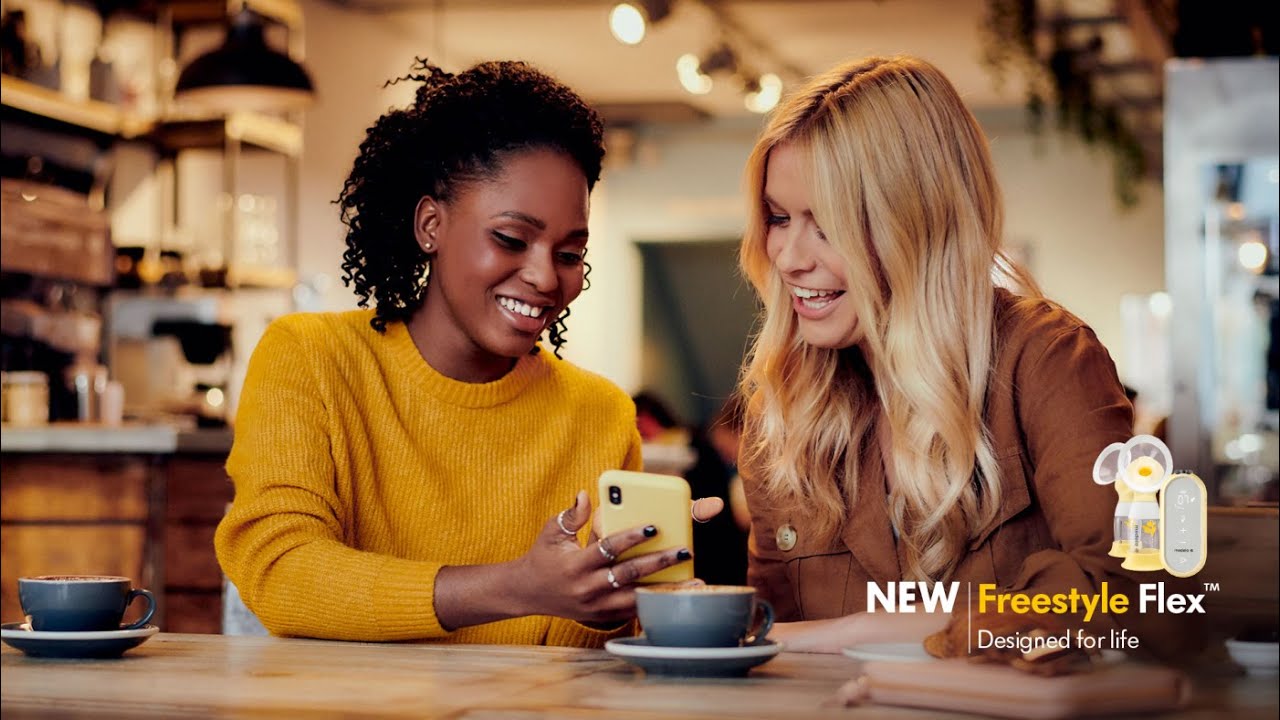 W skrócie:
Kompaktowy, lekki i poręczny laktator, z łatwością możesz zabrać go, dokąd tylko chcesz
Wbudowany akulumator pozwala na odciaganie pokarmu w dowolnym miejscu - nie musisz szukać źródła zasilania
Wejście USB dla wygodnego zasilania*
Lejki Medela PersonalFit Flex™ dla Twojego komfortu i większej ilości odciągniętego pokarmu1
Zamknięty system zapobiegający przedostawaniu się mleka do drenu
A double electric breast pump that fits in your palm
Weighing less than 300 g (10 oz), Freestyle Flex™ is small enough to fit into your palm, pocket or bag, making it easy to carry anywhere – around home, to work, to the gym, or when out with friends.
Pump wherever you are, even if no power outlet available
Freestyle Flex™ has a built-in rechargeable battery that lasts for up to eight double-pumping sessions from a full charge, so you don't have to plug into the mains while expressing. And if you need to recharge your electric breast pump on the move, Freestyle Flex™ has a USB port*.
Pairs with app for extra pumping and breastfeeding support
You can connect your Freestyle Flex™ with the MyMedela app on your smartphone – just follow a few simple steps and you're ready to time pumping sessions, track the settings you've used, and record how much breast milk you've expressed. For your convenience, the app also notifies you when the battery is running low.
Intuitive interface with touchscreen controls
The electric breast pump's illuminated digital control panel allows you to start or pause pumping, switch expression mode, and adjust vacuum levels. You can also activate a Delay start function via the panel – this feature gives you ten seconds before Freestyle Flex™ starts, particularly useful if double pumping, as it leaves your hands free to put breast shields in place without rushing.
Choosing Freestyle Flex™ also means you could benefit from:
More milk in less time
Double pumping with the Freestyle Flex™ double breast pump halves time spent expressing, and collects 18% more milk on average, compared to pumping from each breast in turn.2
2-Phase Expression®
All Medela electric breast pumps use this technology to mimic your baby's sucking rhythm – fast to stimulate milk flow, then slower to feed – for a natural feel.
Overflow protection
Freestyle Flex™ has overflow protection (a closed system), which helps prevent your breast milk entering the tubing or motor during pumping.
Full support kit
The electric breast pump also comes with all you need to collect and store your breast milk, including a carry bag and a cooler bag to help keep breast milk fresh if pumping away from home.
Read more
Zawartość opakowania
Dostępne materiały & Linki
1 x podwójny laktator elektryczny Freestyle Flex™
2 x lejek Medela PersonalFit Flex™ w rozmiarze 21 mm
2 x lejek Medela PersonalFit Flex™ w rozmiarze 24 mm
2 x konektor Medela PersonalFit Flex™
1 x dren
4 x 150 ml butelka na pokarm


4 x nakrętka
2 x podstawka pod butelkę
1 x zasilacz z kablem USB
1 x torba przenośna
1 x torba chłodnicza z wkładem lodowym

References
1 Prime DK, Ivarsson L, Haynes AG, Jäger L, Mitoulas LR, Sakalidis VS. Influence of a newly designed breast shield on the dynamics of milk removal: A randomised controlled trial [poster]. Academy of Breastfeeding Medicine Europe Conference, May 18-20 2018; Rotterdam, Netherlands.
2 Prime DK et al. Simultaneous breast expression in breastfeeding women is more efficacious than sequential breast expression. Breastfeed Med. 2012 Dec;7(6):442-447.
*Only use the power adapter and cable that come with the breast pump